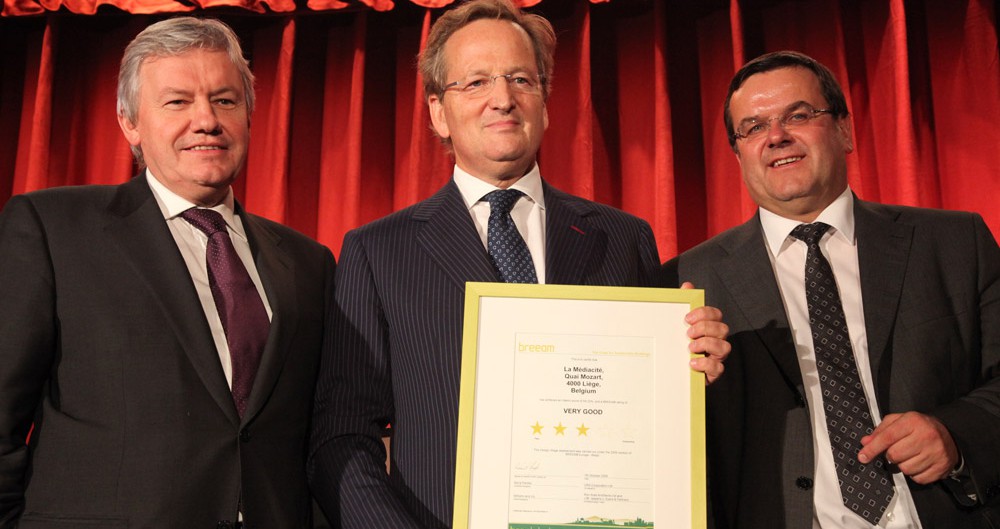 Médiacité wins award
2011/12/20
In 2009, Médiacité was the first building to have obtained Breeam certification in Belgium(Very Good mention) and the first European shopping centre to be certified according to the new Breeam Retail 2008 protocol, specially created for shopping centres. A rare achievement, Médiacité has now received the 'post-assessment' certification. In 2010, Médiacité won Two awards from the CBLCC (Belgian-Luxembourg Council of Shopping Centres):
The 'New Shopping Centre' award for its "state of the art" design, and for the quality of the building and associated services.
The 'Sustainability' award for all the sustainable features integrated throughout the project (labelled Breeam).
Peter Wilhelm is voted 'Honorary Citizen of the City of Liège'. In 2011, Médiacité won:
The award for 'renovation of a shopping centre of the year' at the RLI Awards. This prize is awarded to a centre that demonstrates innovation in its renovation through architecture and design, the way it contributes to the overall regeneration of the city or region, its contribution to the local community and the measures it takes to improve sustainable development.
The prize for the category 'Refurbishment and Large Extensions' at the ICSC Awards. This is the most prestigious award that a shopping centre developer could receive. The annual 'ICSC European Shopping Centre Awards' are the most widely observed awards across Europe due to the expert jury which selects each finalist and travels thousands of miles across Europe for on-site assessment. It is this personal appreciation by experienced professionals in the sector that makes the 'ICSC European Shopping Centre Awards' the benchmark for quality and success.<br\> Mediacite_ICSC_awards.pdf
In 2011, Médiacité was nominated for the World Architecture Forum awards.