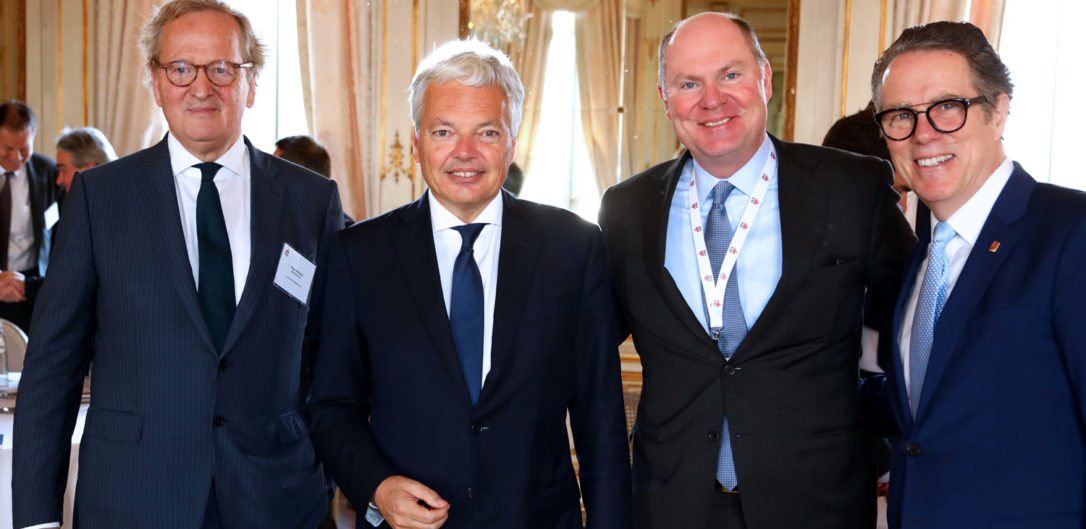 ICSC European CEO Forum
2018/06/20
On 18 and 19 June this year, Wilhelm & Co, whose CEO Peter Wilhelm is Chairman of the ICSC [International Council of Shopping Centers] European Public Affairs Committee (EPAC) and ICSC European Chairman since October 2018, has organised the ICSC CEO Summit on the subject of Europe, to be held at Egmont Palace, Brussels.
Each year, the ICSC brings together the CEOs it considers to be most influential within the industry.
The Minister of European and Foreign Affairs, Mr Didier Reynders and Ms Géraldine Fages, Senior Expert at the European Commission – DG Interior Market, Industry, Entrepreneurship and SMEs, are the guests of honour. The following were present:
Severin Schöttmer, Managing Director, Property Finance, Retail & Logistics, Aareal Bank AG
Arne Bongenaar, Owner, Acteeum Group
Mikhail Pecherskiy, Managing Partner, ADG Group
Fabrice Bansay, Group CEO, Apsys
Liad Barzilai, CEO, Atrium Group Services B.V.
Patrick Delcol, Chief Executive Officer Central & Eastern Europe, BNP Paribas Real Estate
Jaap Gillis, CEO, Bouwfonds Investment Management
Lawrence Hutchings, CEO, Capital & Regional
Rik Eertink, Fund Manager | CBRE Dutch Retail Fund I CBRE Nordic Property Fund, CBRE Global Investors
Marcel Kokkeel, CEO, Citycon Oyj
Mike Rodda, Partner – Head of European Retail Capital Markets, Cushman & Wakefield
Henrie Kötter, CIO, ECE Projektmanagement GmbH & Co. KG
Frederic Rouvez, CEO, Exki s.a.
Bill Kistler, Executive Vice President & Managing Director – EMEA, ICSC
Tom McGee, President & CEO, ICSC
John Strachan, Chairman, Intu Properties Plc
Jeremy Eddy, International Director, JLL
Massimo Saletti, JP Morgan
Jean-Marc Jestin, Klépeierre
Bertrand Courtois-Suffit, Director, Mall & Partners
Jean-Christophe Bretxa, CEO, Metro Properties
Josip Kardun, CEO, Multi Corporation
Daniel Losantos, CEO, Neinver
Joris de van der Schueren, Managing Partner, The New Amsterdam group
Marcus Wild, CEO, SES Spar European Shopping Centers
Sheila King, Founder, Sheila King International
Henrike Waldburg, Head of Investment Management Retail, Union Investment Real Estate GmbH
Peter Wilhelm, CEO, Wilhelm & Co
As a reminder, the ICSC is the international organisation which, with more than 70,000 active members in one hundred different countries, represents the commercial real estate sector.
In Europe, the ICSC counts more than 7,000 members. Among them, owners, developers, investors, retailers, consultants and service providers.
The commercial real estate industry constitutes an essential component of Europe's economy and society. In particular, the European shopping centre market represents 190 million m2, 5 million jobs and annual turnover of one thousand billion Euros.